All roads lead to the Emerald GAA grounds in Ruislip on Saturday 21st February but for one 8 year boy his dream is about to come true as Carlow take on London in the Allianz National Hurling League Division 2A clash.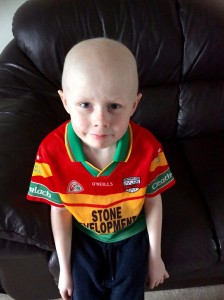 Timmy Shipton from the little village of Mayland in Essex will be a mascot for the Carlow team. Timmy's first cousin Gary Bennett is one of the Carlow squad travelling to London this weekend. Hurling has always been a part of Timmy's life, he has spent several holidays in St. Mullins with his family. Timmy and his cousin Gary are chips off the old Gladney block with hurling in the blood.   Their Grandad, the famed Ned Gladney has won 8 Carlow Senior Hurling Titles between 1954 & 1966 an All Ireland & Leinster Junior Hurling Championship in 1960 and an All Ireland & Leinster Intermediate Championship in 1962.
Timmy was diagnosed with Ewing's sarcoma in July 2014. He has to endure several cycles of chemotherapy and has just recovered from extensive surgery in January.
His Mum Maggie and dad Darren with aunts Josie and Jenny and his many friends will be in attendance and sporting the Red Yellow and Green in supporting the scallionaters on the day.
Maggie said.. 'Darren and I are delighted, it's been a very difficult time. Timmy is our only child. The three of us usually holiday in St Mullins at least 3 times a year. As a result of Timmy's diagnosis and intensive treatment we haven't been home to St Mullins for over a year. This Saturday gives us all a great lift and a link with some of what we have missed as a family over the last while.'
Timmy's bravery, optimism and resilience inspires all who meet him.
We wish them all a great day.
#followmeuptocarlow