CALLING ALL CARLOVIANS IN LONDON
Its countdown to London's 2015 St Patrick's Celebrations on 15th March and the County Carlow Association in London plan to be out in force on the biggest National day in the world's calendar.
Will you be there in your 'Red Yellow and Green' Carlow Jersey or Irish Top waving your flag and banner.
You'll be made very welcome. Beigh fáilte romhat..  London is planning great celebrations with the mayor's office presenting a free day of family fun. Come out on Sunday and help paint the town GREEN The parade leaves the top of Piccadilly by Green Park at noon forming up from 10am for floats and 11am for walkers from outside Green Park Station.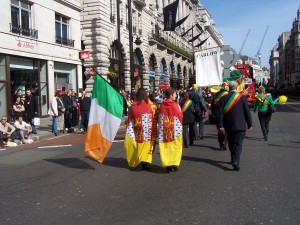 It sets off at a jig to thread its way up Piccadilly, along Lower Regent, the Mall and Cockspur Street, rounding Trafalgar Square and finishing up in Whitehall.
Come along and join the craic in following the 'Follow me up to Carlow' banner.
Make it the event where all Carlovians in London can experience that 'Special Gathering' outside Ireland.
Also see the wonderful floats from Irish County Associations, marching bands from across the UK, sports clubs and Irish Dancing schools.
The parade finishes in Trafalgar Square to a backdrop of Irish culture from noon until 6pm featuring the cast of smash-hit West End musical The Commitments, performers from Lord of the Dance and rapper Lethal Dialect and much much more.
There is also an Irish food market, children's theatre, fashion show and the Prince Charles Cinema in Leicester Square is showing a selection of Irish short films.
And if seeing all the Irish dancing inspires you to have a jog yourself there is a tea dance all afternoon at Westminster Cathedral Hall.
On the cultural side there are readings to mark WB Yeats's 150th birthday, and ahead of the parade there is a guided walk through Camden – the 'capital of Irish London' – taking in landmarks and telling the story of the community over the past 200 years.
*Have a fantastic St Patrick's Day* ….. *Lá Fhéile Phádraig Shona Duit*

https://www.london.gov.uk/get-involved/events/st-patrick-s-day-parade-and-festival-2015