*SAVE THE DATE – 18th OCTOBER, COUNTY CARLOW ASSOCIATION LONDON 46th ANNUAL DINNER*

Have you got those post holiday blues?
Then cheer up because County Carlow Association London's Annual Dinner is set for Saturday 18th October in the world famous CROWN MORAN HOTEL http://www.crownmoranhotel.com/ at 152 Cricklewood Broadway, Cricklewood, London, NW2 3ED. and is all set to be a fantastic night with music song and dance in true Carlow fashion.

'The Crown' Pub is one of London's most iconic pubs in North London and was cited by The Dubliner's in their well-travelled song McAlpine's Fusiliers – "The 'craic' was good in Cricklewood and they wouldn't leave the Crown"

The much looked-forward-to event is the Number 1 fixture in our yearly calendar and the ideal opportunity for all Carlovians and their friends here in London to catch up for some good old 'craic caint agus ceoil'. Delegates visiting from Carlow include Cllrs from Carlow County Council together with some 'added VIPs' and a 'host of surprises' – certainly a night not to be missed. Plenty of craic agus ceol on the agenda.
As we approach our 46th 'annual do' we are delighted to have Carlow's Own Brendan Hennessy over to MC this year's event.  Known as the Michael O'Hare of Carlow and a great friend to the Carlow Association here in London Brendan has been involved in entertainment and broadcasting for over 20 years after starting out on his career as a comedian/impressionist winning many talent shows across Ireland.
He has moved up the ranks in Irish entertainment over the years and now hosts some of Ireland's biggest shows.  He has numerous Television appearances behind him and at the moment is a freelance Radio and TV Commentator working with Setanta TV, TV 3,  & Premier Sports TV. and now a familar face on the new Irish TV Channel. He spends a lot of time over in London in comparing the London Rose of Tralee selection nights and commentated just recently on the Senior London County Finals in Hurling and Football broadcast live on Irish TV to a global audience.
And how can we forget that magnificent journey he brought us on with his 'classic broadcasts' on Mount Leinster Rangers great run in the AIB club Championships of 2013/14.  They were off the scale!  Brendan is now nominated for an Irish PPI radio award in December for his work on that.
So sit back relax and enjoy Brendan who is making his debut at the Carlow Dinner as our MC.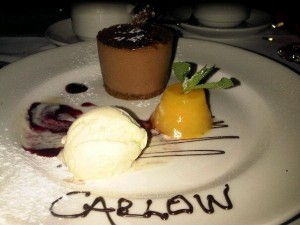 Add 'Carlow's 46th' to your list of gatherings attended in the year  2014
Reception at 7.00 for 7.30 sit down
Tickets are £35 and available from
Catherina 07789226734
Ned 07802462741
Noreen 01293513189