CALLING ALL CARLOVIANS IN LONDON –
"Your County needs YOU"

Its countdown to London's 2018 St Patrick's Celebrations on 18th March and the County Carlow Association in London plan to be out in force on the biggest National Day in the world's calendar.
Will you be there in your 'Red Yellow and Green' Carlow Jersey or Irish Top waving your flag and banner.
You'll be made very welcome.
Beigh fáilte romhat..
The Parade is part of the Biggest St Patrick's Festival ever held in London with events in 33 boroughs over three days focusing on the achievements and success of London's Irish women as part of Mayor's #BehindEveryGreatCity campaign.  Performers on main stage will join forces for a special tribute to the late Dolores O'Riordan.
Come out on Sunday and help paint the town GREEN The parade leaves the top of Piccadilly by Green Park at NOON forming up from 10am for floats and 11am for walkers from outside Green Park Station.

It sets off at a jig and parades its way up Piccadilly, along Lower Regent, the Mall and Cockspur Street, rounding Trafalgar Square and finishing up in Whitehall.
Come along and join the craic in following the 'Follow me up to Carlow' and 'County Carlow London Association' banners.
Make it the event where all Carlovians in London can experience that 'Special Gathering' outside of Carlow and Ireland.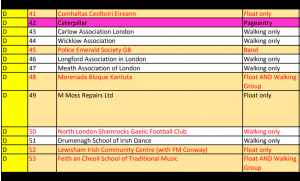 Of the seven sections of the parade (A-G) the Carlow Association London group is located in Section D.  We are behind the Comhaltas Ceoltoiri Eireann float and a few in front of the Police Emerald Society Pipe Band
Also see the wonderful floats from Irish County Associations, marching bands from across the UK, sports clubs and Irish Dancing schools.
The parade finishes in Trafalgar Square to a backdrop of Irish culture and music from noon until 6pm with a world-class line-up of Irish culture and community on the main stage. Holding the show together will be one of Ireland's leading TV and radio presenters Eoghan McDermott from RTÉ 2FM, and the house band of RTÉ's Late Late Show.
The packed schedule will include performances from some of London's eminent female Irish performers and special guests, to be announced in due course.
*Have a fantastic St Patrick's Day* 

*Lá Fhéile Phádraig Shona Duit*